The Byron Delano Hamlin Mansion
picture taken from Byron D. and Henry Hamlin Store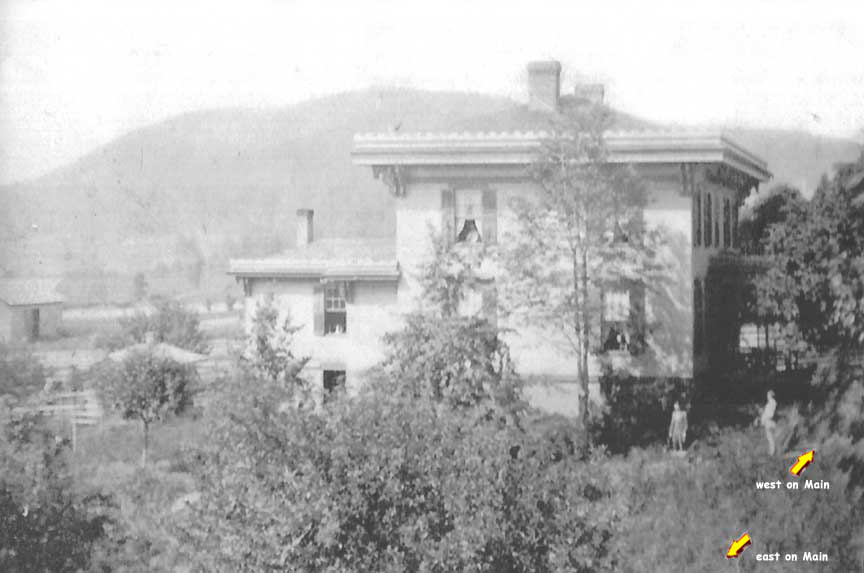 photo credit: Dona Fizzell Cooper

Click here to see a 2007 picture
| | | | | | |
| --- | --- | --- | --- | --- | --- |
| Medbury Residence | | | | | B D Hamlin House |
See the painted panorama of 1858 Smethport



M'Kean County Democrat: Thursday, January 10th, 1861

About Byron D. Hamlin
Henry Hamlin's Uncle & Friend Son of Dr. Asa Hamlin; Younger brother of Orlo James Hamlin, Sr. When the average young man of the present day is disposed to grumble at the fate that compels him to earn his living, and to complain of his "luck," it may be profitable to him to study the lives of the older men around him who are enjoying wealth and honorable position. He will discover that almost without exception their earlier days were fraught with struggling toil, and that their success is the result of earnest and persevering application of the hand and brain, and the prompt improvement of ever opportunity offered. The gentlemen whose name heads this sketch holds a most enviable position socially and financially. In the declining years of his life he is surrounded with all the comforts of a competence and the assurance of respect and honor of his fellows, and the love of a large circle of friends and family connections. This is not the result of chance, but the reward of patient toil and persevering endeavor. Equal success is in the power of any young man. Hon Byron D. Hamlin, the senior resident-member of the McKean county bar, was born on May 7, 1824, at Sheshequin, Bradford Co., Penn., the youngest of seven children. His father, Dr. Asa Hamlin, was of English decent, while his mother, whose maiden name was Delano, came of French ancestry. His parents and ancestors had resided for many generations in Litchfield county, Conn., his father removing to Pennsylvania in 1816. Dr. Asa Hamlin, who was one of a family of twenty-one children, was bred on a farm, and brought up under the old Puritanical regime as practiced by the New England
Presbyterians. Amusements were rare, and Sunday was a day to be dreaded. He had scanty opportunities for education or culture in his youth, yet he improved them so well that he secured a profession in which he held a respectable rank. In those days, however, doctors' fees were small and hard to get. In June, 1833, he re-moved to Smethport with his wife and two younger children- the subject of this sketch and his sister, Jenette- and died in 1835, leaving a family without financial means for their support. In this condition of things young Byron, then but a slight lad of eleven years, set about to find some self-supporting employment. The first that offered was an opportunity to peel and gather bark from old hemlock trees that had fallen. This he sold for fuel at $1 per cord, payable in store trade. In this occupation he succeeded in maintaining and clothing himself for some time, and even had sufficient surplus to purchase a handsome cream pitcher as a present to his mother. It cost 5 shillings and 6 pence, and is still preserved and highly prized as a relic of the struggles of his youth. After a time he was offered the position of mail-carrier between Smethport and Olean, N.Y., then the principal communication with the outside world, and he accepted it gratefully. He had to make two round trips a week, going to Olean and returning each Sunday, making a ride of fifty-six miles, and going Wednesday and returning on Thursday. The salary was 75 cents a trip, or $1.50 a week. The Sunday trip commenced at 4 a.m., and was generally concluded between 8 and 11 p.m., in all kinds of weather and at all seasons of the year. Young Byron began the occupation when thirteen years old, and continued it two years during which time the mail rarely failed to be on time. His mode of conveyance was on the back of a mule, and Mr. Hamlin enjoys nothing better then to relate the comical, though often unpleasant, experiences of those days. By the improvement of odd hours with his books at the fireside, and an occasional few weeks at school, he had gained sufficient education to undertake teaching school at the age of sixteen on Marvin creek, about four miles from home, at $10 a month and "board around." The term lasted three months, and from the proceeds he was able to purchase suit of clothes and few books.
His sister, Jenette, having married Rev. Moses Crow, a professor in Allegheny College, at Meadville, Penn., he accepted an invitation to make his home with them, and enter the college. After about a year and a half, his brother-in-law's health failing, so that he was obliged to resign his professorship, young Byron, having no means to pay his expenses and continue his studies, returned to Smethport. He then accepted an offer of partnership in a little store owned by his brother, Orlo J. Hamlin, the whole stock of which would not inventory over $500. After about a year thus engaged, his brother-in-law, who had in the meantime united with the Conference of the Methodist Episcopal Church, and been stationed at Geneva, N.Y., again invited him to live with him, and attend the college in that beautiful town. The long hoped for opportunity to complete a college course seemed to have arrived, and he hastily closed his interest in the store, and prepared to accept the offer. His profits in the year's business comprised a respectable wardrobe, and about $100 in bills receivable. He had in preparation for his trip a wooden trunk made by a carpenter and joiner (which is still preserved in the attic of his residence), in which all of his worldly wealth was stowed, when a few days before starting he received a letter stating that both Mr. and Mrs. Crow were lying at the point of death, from typhoid fever. He went there at once, on horseback, but found that his sister was dead and buried, and his brother-in-law almost at the point of death, so he was obliged to return to Smethport with his hopes disappointed, and his spirits crushed. By the advice of his brother, Orlo J., who was then practicing law in Smethport, he gave up the idea of completing a collegiate education, and entered his office as a student and clerk. This was in 1843, and in 1846 he was admitted to the bar of McKean county. His brother had the care of a number of landed estates, for various owners, and the attention to the details of this part of the business falling largely upon the young student, he early acquired a taste for it, and having given the subject his principal attention during his long professional career, he is an accepted authority upon legal as well as practical business questions of Keating & Co., then comprising nearly two hundred thousand acres of the Bingham, in the year 1796, in McKean, Potter, Cameron, Clinton and Clearfield counties. He had their care and management to the year 1884, when he became the purchaser of what remained of this estate, and interested some of his family relatives with himself in its ownership- the business being conducted in the names of Byron D. Hamlin, Henry Hamlin and John Forrest.
In politics Mr. Hamlin is a Democrat. When a young man he was active and prominent as a local leader, and his party, then largely in the majority in the county and district, recognized his abilities and usefulness. In 1848, at the age of twenty-four, he was recommended by his county as a candidate for the legislature, but declined at the district convention in favor of G. W. Scofield, of Warren county, who was elected; in 1850 he was elected treasurer of McKean county; in 1852 he was sent to the State senate, in which body, although one of the youngest members, he took a leading and prominent position, and was elected as its presiding officer at the close of the session of his term, in 1855, but was defeated by Henry Souther, of Elk county, the candidate of the American and Free-Soil parties. Having a good clientage and extensive land estates under his care, he considered it his duty to those interests, and to his family, to withdraw from active political life to more congenial and profitable pursuits. He was tendered the nomination (which, in that district, was equivalent to an election) for president judge of the counties of Clearfield, Clinton, and Centre, in 1868, but declined it. Since that time he has been urged by the people of his town district, without regard to party, to stand as a candidate for judicial honors in it, but adhered to his often expressed determination to spend his life in domestic pursuits, without the slavery of public office. In 1882, however, he was induced, after repeated solicitations, to allow his name to be presented as the candidate of his party for the legislature. Although the county was Republican by a considerable majority, and he was opposed by the strongest candidate who could at that time have been nominated against him, he was defeated by less than a score of votes. In the dark period of Nationís history (1861-65) Mr. Hamlin stood on the ground that the only was to correct the fallacies of those who sought to break the bond of union of the States was the physical one; all arguments appealing to the patriotism and reasoning faculties having failed. He was examined, and pronounced physically unfit for service in the field, but, immediately following the news of the first shot on Sumter, he applied himself to the work of encouraging and aiding the valorous young men of his region to enlist, for the defense of their country and their homes. He rendered efficient aid to Gen. Thomas L. Kane, to whom he was much devoted, in selecting the valiant fellows who formed the famous Bucktail Regiment, and no compliment ever bestowed on him afforded him and his family more gratification than his election as an honorary comrade in that regiment, at the re-union of its survivors in 1888. Mr. Hamlin is now at the age of sixty-five years, a well preserved gentleman, and in the prime of his maturity and usefulness. Although his life has been full of toil and business cares, he has always been temperate in his habits, and has not wasted his energies or his health.
In 1846 he married Miss Harriet, daughter of John Holmes, of Smethport who has by her faithful devotion, constant sympathy and good counsel, contributed largely to his success. They were blessed with children, one boy and two girls. The son, Delano R., died May 30, 1884, leaving a widow and two children. The eldest daughter, Jenette, married H. V. Redfield, the well-known Washington correspondent of the Cincinnati Commercial, who died November 17, 1881, leaving his wife and three lovely children. Mrs. Redfield was next married September 24, 1889, to William E. McCoy, and enterprising and substantial cotton manufacturer of Augusta, Ga., and with her children now resides in that healthful and attractive Southern city. The youngest daughter, Mary, married John Forrest, who is a lawyer and a partner with his father-in-law in the law and land business, and the main reliance for the details of the business of the firm. Mr. And Mrs. Forrest have two young daughters, who are the pride of their parents and grandparents. Mr. Hamlin is very domestic in his tastes, and is happiest when surrounded by his family, children and grandchildren. He lives in a comfortable mansion in Smethport and enjoys with his family the competence and ease earned by his hand and brain throughout a busy and useful life.
At high noon Monday, Oct. 24, 1898, St. Luke's church was the scene of a very pretty but unostentatious wedding, when Rev. J. Heber McCandless of St. Luke's and Rev. Dr. Ashton of Olean, in the presence of relatives and few intimate friends, united in marriage Mr. Mellville Montague Gillette of Olean and Miss Harriet Forbes Redfield, the beautiful and highly accomplished granddaughter of Hon, and Mrs. Byron D. Hamlin. The bride was attired in a tasty traveling suit and carried bride's roses. As she passed up the aisle on the arm of Mr. Hamlin who gave the bride away Miss Grace E. McCoy played the Wagner's beautiful wedding march. "Lohengrin," and while the pappy couple marched out Mendelssohn's Wedding march was beautifully rendered Miss Ethel Sartwell of Olean acted as her bridesmaid and Mr. Harry G. Rask of Washington, D. C., was best man.
The beautiful and impressive marriage service of the Episcopal church was used. Immediately after the ceremony the guests repaired to the residence of the bride's grandfather, where a reception was held and the wedding breakfast served. The party assembled made merry until 2 o'clock, when the happy couple departed for an extended tour through the South, including Washington and many other leading points of interest. The presents were numerous and costly.
taken from History of the Counties of McKean, Elk, Cameron and Potter, Pennsylvania, ©1890, J.H. Beers & Co., Publishers, pages 435-438.
Long House 2005